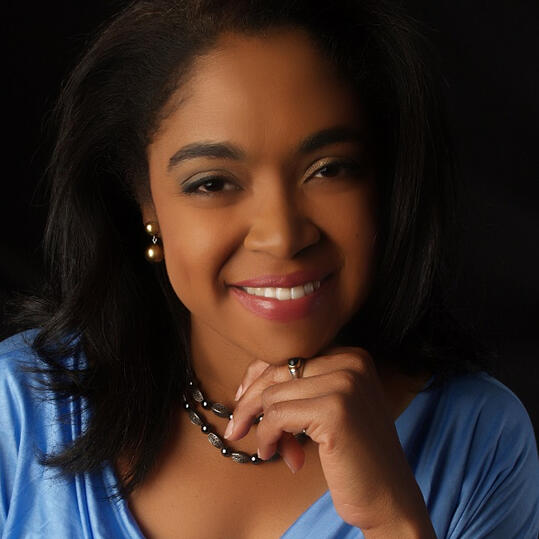 Dr. Marie Nubia-Feliciano
Educator, Writer, Advocate
---
"Education is a process, not a commodity"
Letters of Recommendation & References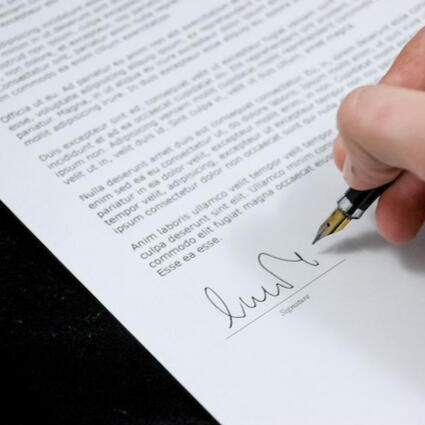 Supporting students and colleagues
on their professional development journey
At my core I am a mentor who loves seeing those I support succeed in their endeavors. Among the ways I provide this support is by providing letters of recommendation and serving as a reference. It is my honor and privilege to be part of your professional and academic journey as you apply to graduate programs, fellowships, scholarships, full time employments both within and outside of academia, and other opportunities.To help guide you in the Letter of Recommendation & Reference request process, below is information for you to consider. Thank you for considering asking me to write a letter of recommendation or provide a reference. Best wishes on the next steps in your professional and/or academic journey.
---
BEFORE ASKING FOR A LETTER OF RECOMMENDATION OR REFERENCE
Relationships matter when requesting a letter of recommendation. Make sure that you have taken at least one class with me. Visit me during office hours. Be engaged in class by talking and answering questions that I ask or that your classmates pose. Make sure that you turn in your best work on time for assessment.Determine if I am the best person to write a letter for you. Ask yourself what sort of letter you need from me: professional, academic, personal.
---
WHEN ASKING FOR A LETTER OF RECOMMENDATION OR REFERENCE
Once you've decided that you want a letter or reference from me, set up an appointment by using the "Say Hello" button above. Make the appointment for about 30 minutes. During our conversation we will catch up and determine whether I am the best person.Get your materials in order. I ask that you create a document in a shared platform (i.e.; Google Docs) with the following pages: (1) description of the opportunity with links and contact information; (2) your cover letter or personal statement; (3) your CV/Resume. This shared space gives me what I need to write a letter and give you feedback if you want it.If after talking we decide that I am not the best person, we will strategize on who you should approach to get the best letter you need to increase your chances of being successful in your application.
---
AFTER ASKING FOR A LETTER OF RECOMMENDATION OR REFERENCE
Please know that I require about two weeks to complete the letter after we have met, so plan accordingly.Once I complete the letter, I will notify you that the request has been done. You have the option of receiving a PDF of the letter I submitted on your behalf. It isn't common practice, but I feel it is important that you receive this information. Be sure to ask me for it if you want it for your records.I would appreciate a "thank you" note either via email or snail mail. It is good professional practice.Please keep me posted on the process and let me know the outcome. I'm now invested in your future and want to know how things turn out for you.
Current Projects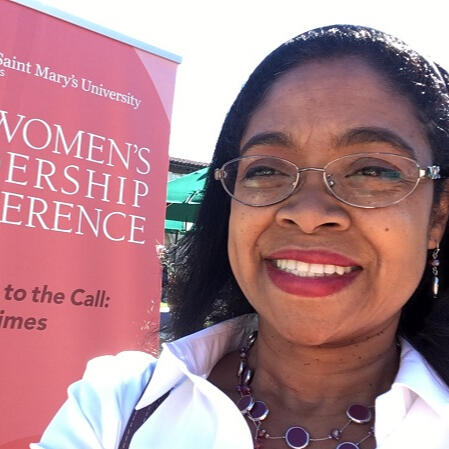 Marie Nubia-Feliciano, Ph.D. is currently a faculty member in the Chicana/o Studies Department at CSU Fullerton. She is also a visiting lecturer at Chapman University, Irvine Valley College, and UC Irvine. When she is not teaching, she manages her own consulting firm: The Colégas Group.
College Teaching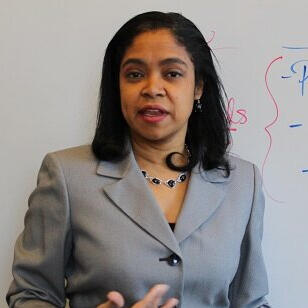 "Education is a process, not a commodity"
When I read this quote several years ago, it struck me as simplistic, yet, also having profound meaning for me as an educator. Throughout my years in education, I have come to see the process of learning as just that, a process. It is not something that I can hold in my hand or hang on the wall – that is what the diplomas are for. The process of becoming educated is a more profound and soul-shifting experience than something as tangible as a piece of paper. The notion is often hard for others to understand. Becoming educated means that you are now held responsible for knowing better. One may not always agree with what is said, or the method of instruction; however, you now know. Even if this knowledge means that you know less than you thought initially, that is still an important discovery. It is the process of knowing, the process of education that is the purpose of schooling. The instructor, faculty, teacher, or professor, plays a part in making this process a reality in the classroom.My belief in teaching is based on this process of education. When I learn something new, I am often left to wonder about the "gray", the unknown areas that lie between what I thought I knew and what I have just learned, and asking why things are the way they are. This for me is part of the process, the meaning making process. It is in this process that I hope to engage students in. As a teacher, I do not expect tectonic shifts in beliefs, but that students remain open and receptive to the shifts that occur and acknowledge them when they happen. Being engaged means being present, accountable, and receptive. For many this is a scary and intimidating proposition, often leaving many to disengage for fear of losing one's sense of self to the process. I believe that it is through mindful engagement that we begin to explore our own humanity, and what we are contributing to the world. All of this may sound lofty, and a bit esoteric, but seeing the process of learning this way, I hope will open minds and hearts – again another lofty goal, I know.As someone who understands the role that language plays in the meaning making process, I think that knowing how the process is impacted by language is paramount. Language can help or hinder the growth and development of new ideas and can interfere with the imparting of knowledge. Developing a common language, and understanding the lexicon of my profession, will be my way of bringing the voice of education into the classroom. Helping students learn to code-switch, knowing when and how to use a language depending on the context in which they find themselves, is an important task that is part of the learning process. Students bring with them their own ways of knowing and a different voice with which they make meaning. It is through this dialog that knowledge is created, that learning occurs, and that language is expanded to create something new. A teacher can only provide a framework within which students can use language to make meaning. It is the students, through sharing of ideas and engaging in the process, who create the possibility of true learning.I know that I may never be able to convey to all students how precious an education is and how fortunate they are to have access to the process. I only hope to help them begin their engagement in the process. The process is where we will lose ourselves only to find ourselves again. It is in this process that I hope students will come away with a renewed sense of discovery. An education is more than something that you hang on a wall or place on a shelf. It is self-discovery. This process takes time and commitment. I hope to bring this level of awareness and commitment into the classroom.
Public Speaking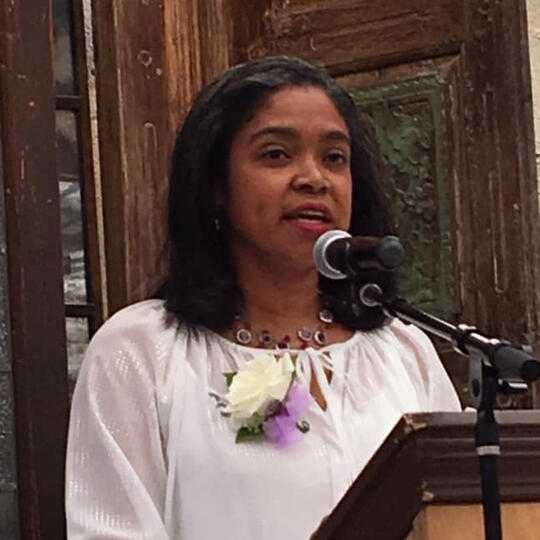 My name is Marie Nubia-Feliciano, Ph.D. and I would love to come and speak to your group or organization! To let you know a little bit about me, I hold a Ph.D. in Education. I also holds a master's degree in Counseling, as well as a bachelor's degree in Social Sciences. As you can tell, I love school.I'm a faculty member at CSU Fullerton, and a visiting lecturer at Chapman University and UC Irvine. I've been presenting and teaching for over 20 years. Here are the topics I have spoken on:- Leadership
- Ethnic Studies
- Diversity, Equity, and Inclusion
- Race, Gender and Ethnicity
- The History of American Education Policy
- Personal Identity and Life Transitions
- Professional Development for Educators
- Student Academic Development
- Adult LearningI currently reside in Southern California but I am available to travel. If you need a qualified, well researched, highly acclaimed, and engaging speaker for your event, click below to fill out my contact form:
---
RECENT PUBLIC SPEAKING ENGAGEMENTSNubia-Feliciano, M. Panel Facilitator – Zonta Division 9 Conference, Costa Mesa, CA, October 1, 2021Dr. Nubia-Feliciano, Moderator - A Conversation about Blackness in the Puerto Rican Community. NACOPRW-SoCal Event. Online, August 4, 2020. Video LinkNubia-Feliciano, M. Featured Speaker – November Meeting, League of Women Voters, Tustin, CA, October 17, 2019.Nubia-Feliciano, M. Featured Speaker – 39th Annual Suffrage Day Celebration, Women for: Orange County, Santa Ana, CA, August 25, 2019.Nubia-Feliciano, M. Keynote Speaker – Our VOTE, Our Rights, Our Future, Iranian Circle of Women's Intercultural Network, Los Angeles, CA, August 25, 2019.Nubia-Feliciano, M. Panelist – Diversity Issues in Irvine. Democratic Party of Greater Irvine, Irvine, CA, June 8, 2019.Nubia-Feliciano, M. Featured Speaker – The Politics of Action. Democratic Party of Orange County, Yorba Linda, CA, May 11, 2019Dr. Nubia-Feliciano, Featured Speaker - Women and Hispanic Heritage Month, League of Women Voters Lunch Meeting. Tustin, CA October 17, 2019.
---
CONFERENCES
Nubia-Feliciano, M. Panelist - More Just and Equitable Higher Education: Cultivating First-Generation College Student Success for the 21st Century. American Educational Research Association, San Diego, CA, April 21-21, 2022.Nubia-Feliciano, M. Co-Presenter – Possibility and Legacy: An Exploration of Multilingualism in the Black Community. American Educational Research Association, San Francisco, CA, April 17-21, 2020.Nubia-Feliciano, M. Facilitator - Finding Your "Why": Preparing Teachers and Faculty to Engage with the Ethnic Studies Curriculum. Education and Ethnic Studies Conference, Chapman University, April 27, 2019.Nubia-Feliciano, M. Session Organizer & Presider - Life in the Balance: Adjuncts, Inequality, & Social Justice. California Sociological Association. Mission Inn, Riverside, CA. November 9-10, 2108.
---
LECTURES
Nubia-Feliciano, M. Experiences of Afro-Boricua Women in Higher Education. Classroom Presentation. Afrolatinidad, UC Irvine, April 18, 2019.Nubia-Feliciano, M. History and Culture of Panama and Colombia. Latin American Institute Teachers' Professional Development Workshop. UCLA, June 18-22, 2018.Nubia-Feliciano, M. Foods of the Caribbean. Latin American Institute Teachers' Professional Development Workshop. UCLA, June 19-23, 2018.Nubia-Feliciano, M. AfroBoricua Women in the U.S.A. Vanguard University Global Center for Women & Justice Speakers' Series. November 16, 2016Nubia-Feliciano, M. Race, Racism and White Privilege in Education. Class Presentation. Voice, Diversity, Race and Social Justice, Chapman University, March 8, 2016.
The Colégas Group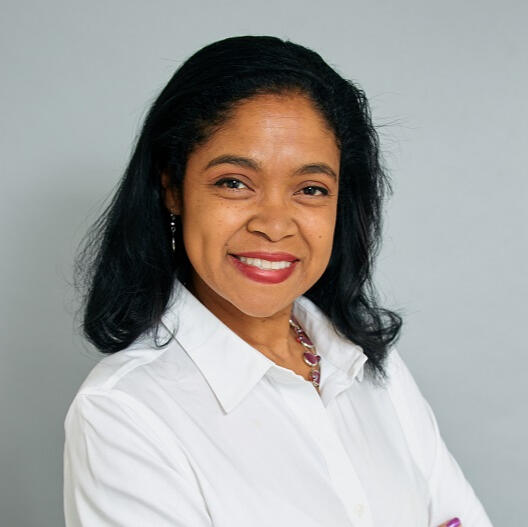 Public Speaking, Workshops, and Coaching for Every Academic Journey
I am the founder & CEO of the Colégas Group, a company providing resources for students, academics, and other professionals thinking of returning to school. To learn more:
Applying to College Help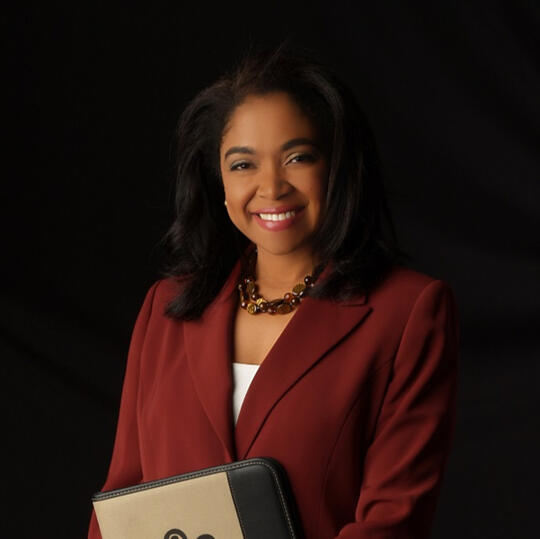 Let me assist you to make the right choices, select the best college programs, and find financial assistance
If you are a high school student, you probably have figured out that the application process is really confusing. Your friends and family are helpful but you need someone who really knows what to do.That is where I come in. I have worked in college admissions, I've read applications, and I've counseled hundreds of students. You and your family can be assured that I will help decipher the confusion, answer your questions, and help you develop a plan that fits your needs and goals. I don't guarantee admission to your dream school. Those who do are lying to you. I can guarantee that you will be a competitive applicant with a clear understanding of what college you want to attend.Why you go to college, and where you end up going, are both very personal decisions. Following the crowd can leave you even more confused, and is a waste of your time and money. I am here to help.So, let's Chat! Schedule a free 30-minute appointment today:
About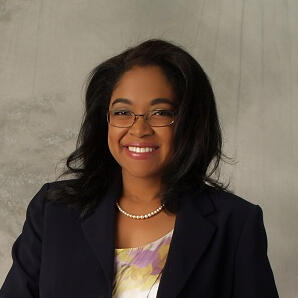 I am an educator, and an advocate for education for all. Education not a commodity, but a public good that is vital for any society to thrive. Investing in the education of our citizens is the best investment we can make…and it is the best investment you can make in yourself as well. Under the "About" link, you will read my personal story, and learn about my academic achievements. I also host a blog that - you guessed it - speaks to the important educational issues of the day. From Ethnic Studies to the status of Contingent Faculty, you will read a thoughtful take on the important ideas impacting the field of education. Please reach out to me for collaborations, conversations, and community.
Full Bio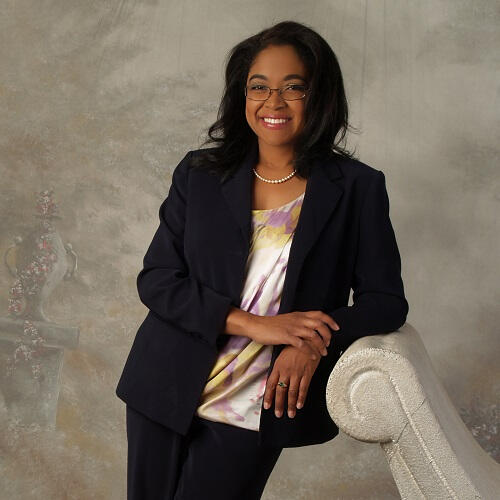 Marie Nubia-Feliciano holds a Ph.D. in Education. She also has a master's degree in Counseling, with an emphasis in student development in higher education, as well as a bachelor's degree in Social Sciences. She is a lecturer at CSU Fullerton, and also teaching part-time for UC Irvine and Chapman University. She instructs on such topics as leadership, ethics, feminisms of color, race and ethnicity, Ethnic Studies, and identity.In addition to CSU Fullerton, UC Irvine, and Chapman, Dr. Marie has taught at CSU Long Beach, as part of their Ethnic Studies Initiative with Long Beach Unified School District. In this capacity, she taught Ethnic Studies courses to high school juniors and seniors on Saturdays at high schools in the Long Beach Unified School District. With AB 101, legislating an Ethnic Studies curriculum in the public K-12, and AB 1460 making Ethnic Studies a graduation requirement in the CSU, Ethnic Studies has become an increasingly important priority in education here in California.Dr. Marie was born in Vieques and raised in Culebra, Puerto Rico. Coming to New York, and later to California with her family in the late 1970s, she has developed a keen interest in public and private educational institutions. As an English Language Learner, she was supported all along the way by wonderful teachers to emerge with a high-level mastery of English. This is where her love of education began.Having completed her K-12 in the public schools in California, she attended community college, then transferred to the University of California for her bachelor's. She continued her education at California State University for her master's, and eventually Chapman University for her doctorate. Her dissertation focused on the experiences of Afro-Puerto Rican women as they develop their racial and cultural identities while attending college. Her master's thesis focused on the transition issues experienced by first- and second-year medical students as they move from life before medical school to life after medical school. Her area of research includes identity, race, multilingualism, AfroLatinidad, and ethnicity.Dr. Marie is an advocate for public education and is interested in research addressing the experiences of individuals and communities at the boundaries. She is a supporter of Ethnic Studies and advocates for its inclusion in the PreK-12. It is important that such conversations happen prior to students leaving high school. It is an essential component of being college and career ready. She also believes that Ethnic Studies, along with multilingualism, is a vital knowledge set for anyone looking to thrive in the 21st century. She is an advocate for full and unfettered access to education and considers it a human right.Finally, Dr. Marie is the Founder and CEO of the Colégas Group, a company that provides professional development and collaboration opportunities for scholars. Please go to www.ColegasGroup.com for more information. She currently resides in Southern California with her family.
Curriculum Vitae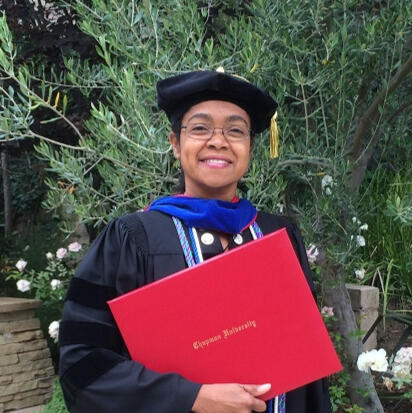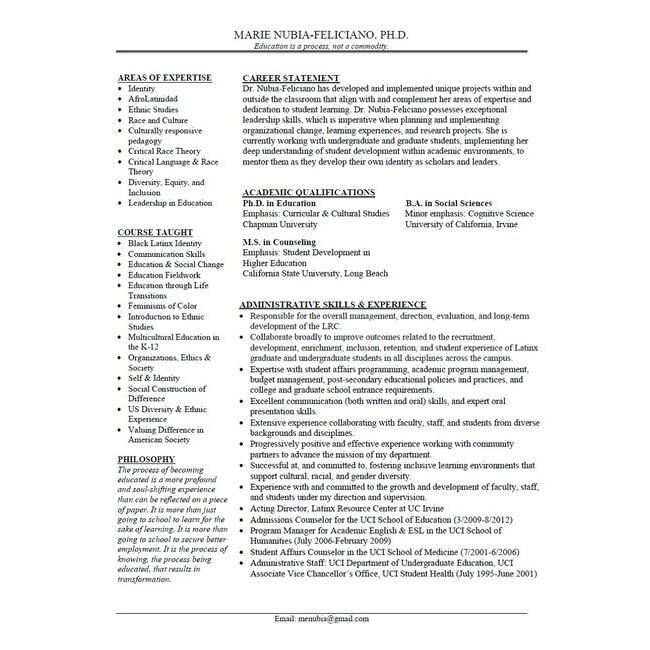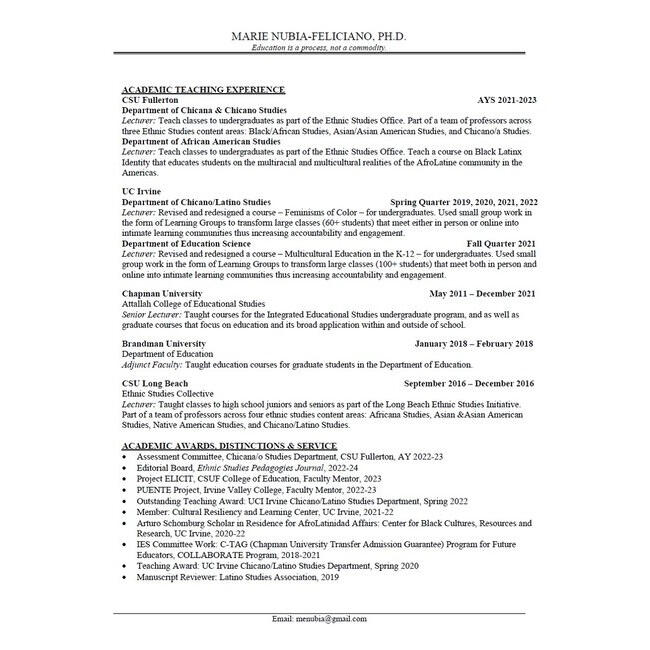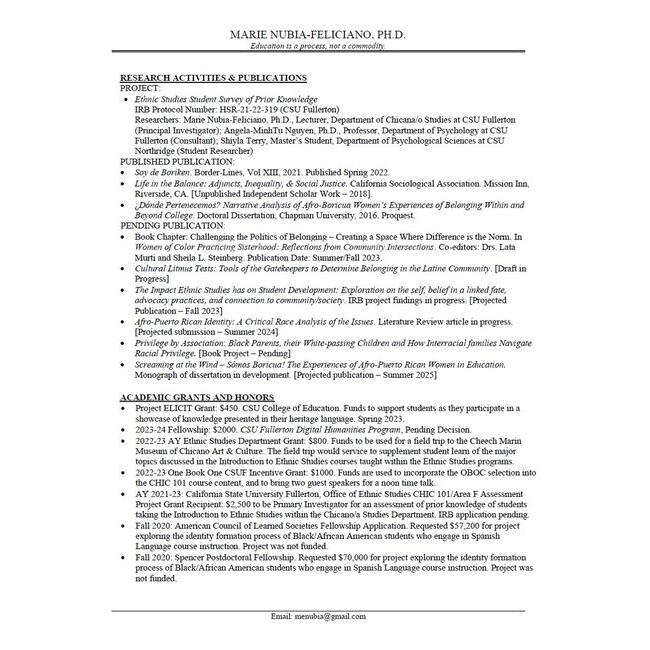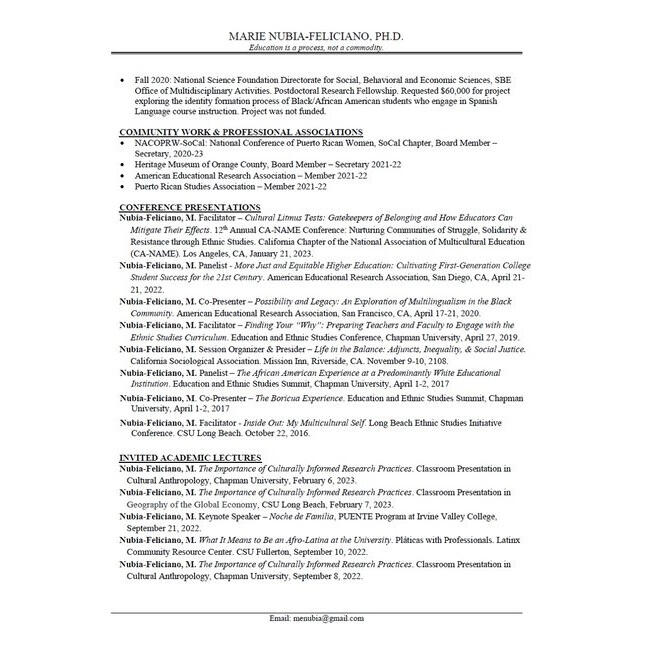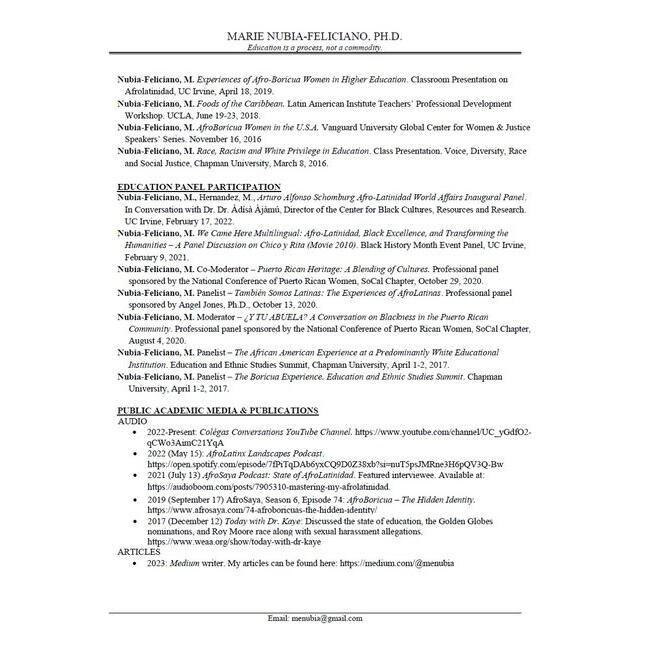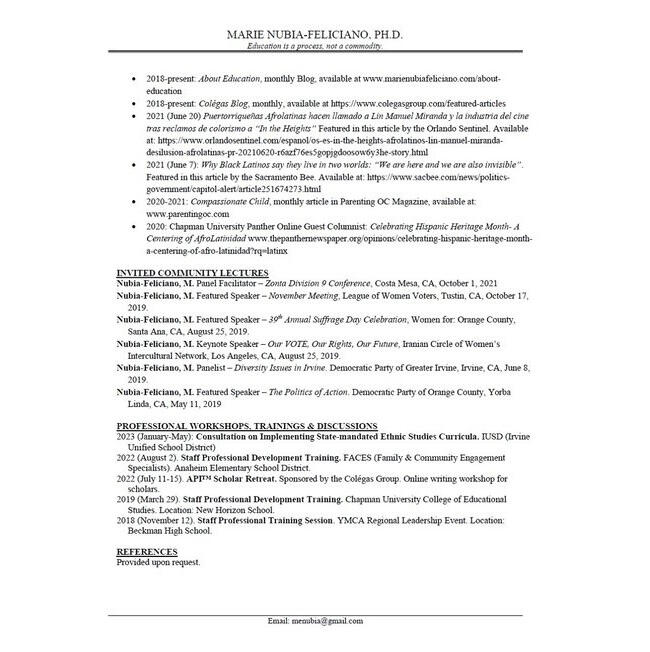 About Education Blog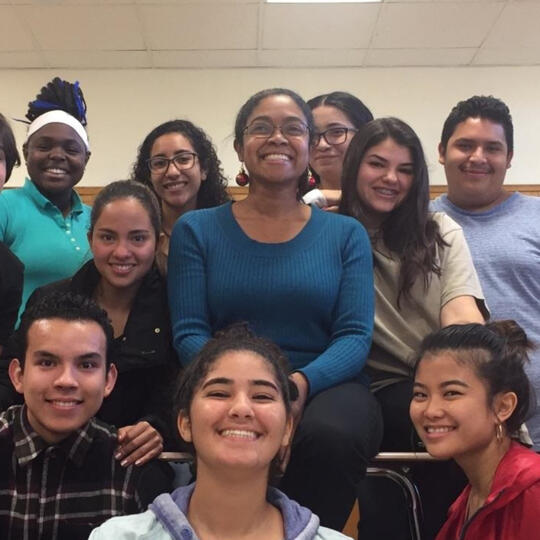 My thoughts on education and its impact on culture & society
I started this blog way back in 2015, when I first set up my personal site, but hosting a blog is a tremendous amount of work. In 2022, I decided to move the entire blog to Medium, a place that just allows me to write without worrying about the technical stuff.Medium is free for occasional readers, but if you are going to read all my articles, not to mention the thousands of other excellent articles from other writers, then I recommend you subscribe for unlimited access.
Contact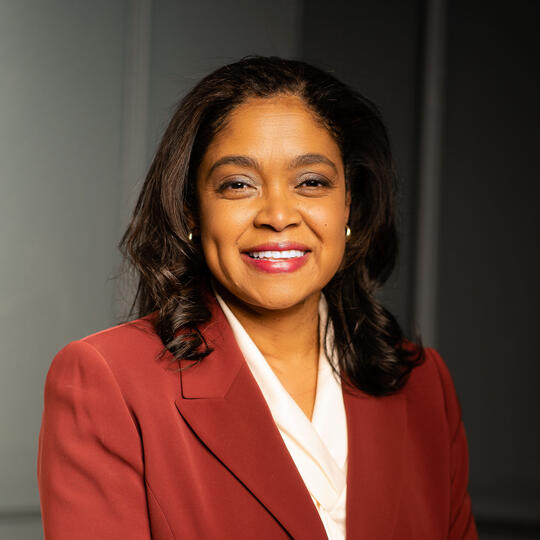 You can also contact me via the social links below as well.